Gordon Setter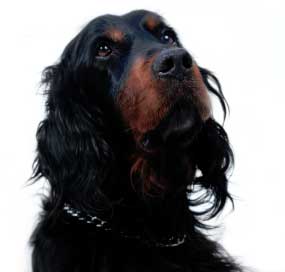 | | |
| --- | --- |
| Ease of Training | |
| Shedding | |
| Watchdog | |
| Guard Dog | |
| Popularity | |
| Size | |
History
He came from Scotland
He was used as a hunting dog in Scotland
Personality and Behavior
He isn't a fast dog but has lots of stamina
He loves his family and showers them with affection
He barks often
He will follow a scent and wander off to investigate
Training
He's easy to train because he learns commands at an above average rate.
Shedding
He sheds quite a bit of hair. You'll find some hair stuck to your clothes, couch and carpets.
Grooming / Maintenance
His long coat needs to be brushed two or three times a week to keep it free of mats and tangles.
Other varieties
Photos
Submit a photo of your Gordon Setter