Irish Water Spaniel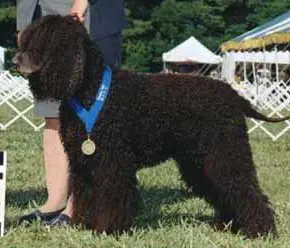 | | |
| --- | --- |
| Ease of Training | |
| Shedding | |
| Watchdog | |
| Guard Dog | |
| Popularity | |
| Size | |
History
Personality and Behavior
He's loving and loyal
He sometimes clowns around which can be funny to watch
He's intelligent, eager to please, active and energetic
He's generally reserved with strangers
He likes to swim!
Training
He's very easy to train. He learns commands very quickly.
Shedding
He sheds virtually no hair. You'll be hard-pressed to find a hair in your home! (Good for clean-freaks.)
Grooming / Maintenance
Option 1: Clip his coat short every few months and then it only needs to be brushed occasionally.
Option 2: Clip and scissor his long coat into shape every 6 weeks and then brush it daily to keep it mat and tangle free.
Other varieties
Photos
Submit a photo of your Irish Water Spaniel