Miniature Schnauzer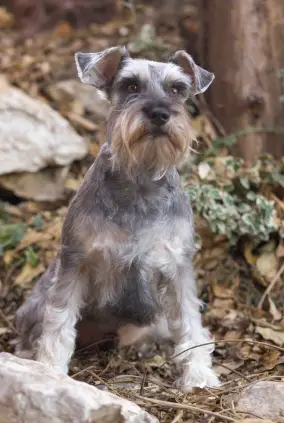 | | |
| --- | --- |
| Ease of Training | |
| Shedding | |
| Watchdog | |
| Guard Dog | |
| Popularity | |
| Size | |
History
He originates from Germany
He was used as a farm dog to hunt rats
He was developed using small Standard Schnauzers and it is also thought Affenpinschers and Poodles were used in his development
There is a painting from the 15th century that pictures a dog thought to be a Schnauzer
He was recognized as a distinct breed in 1899
Personality and Behavior
He's highly alert and is quick to sound the alarm if something's amiss
He's very intelligent
He a naturally happy dog
He loves children and gets along well with them
He isn't a wanderer and stays close to the home
He has a high prey-drive and may chase and attack anything small that scampers past
He loves to engage you to play with him
He doesn't have an aggressive streak like most terriers
He's a very healthy breed and lives a long life
Training
He's very easy to train. He learns commands very quickly.
Shedding
He sheds virtually no hair. You'll be hard-pressed to find a hair in your home! (Good for clean-freaks.)
Grooming / Maintenance
Option 1: Clip his coat short every few months and then it only needs to be brushed occasionally.
Option 2: Strip his medium-length coat (pluck out the dead hairs) every 6 months and brush it occasionally.
Other varieties
Miniature Schnauzer, Standard Schnauzer, Giant Schnauzer
Photos
Submit a photo of your Miniature Schnauzer