Pomeranian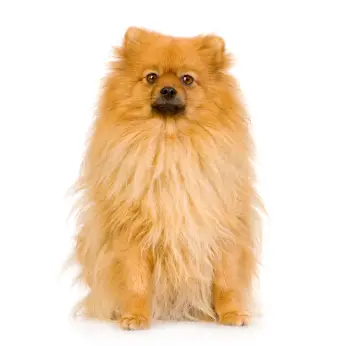 | | |
| --- | --- |
| Ease of Training | |
| Shedding | |
| Watchdog | |
| Guard Dog | |
| Popularity | |
| Size | |
History
He originated in Pomerania (now Germany and Poland)
Personality and Behavior
He's friendly, confident, lively, and extroverted
He thrives on your love and attention and doesn't do well being left alone for long periods of time � he likes it when you're with him
He will follow you from room to room around the home
He doesn't need much exercise and stays active indoors which makes him a good apartment dog
He's highly alert and quick to bark at strangers at your door
He gets on well with other dogs and pets
He's a very fast learner
Training
He's very easy to train. He learns commands very quickly.
Shedding
He sheds profusely! You will find a lot of hair in your home - stuck to your couch, carpets and clothes - and to just about everything else. You will be vacuuming regularly.
Grooming / Maintenance
His medium-length coat only needs to be brushed occasionally. However, because it sheds you may find yourself brushing it once a week, or more, to minimize the hair in your home (what you remove with a brush doesn't end up on the couch!).
Other varieties
Photos
Submit a photo of your Pomeranian