Shih Tzu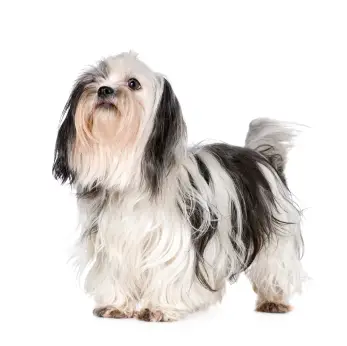 | | |
| --- | --- |
| Ease of Training | |
| Shedding | |
| Watchdog | |
| Guard Dog | |
| Popularity | |
| Size | |
History
He originated in China
He was bred to be a companion dog of Chinese royalty
Personality and Behavior
He has an arrogant demeanor
His sole purpose is to be your companion
He's happy, sweet, friendly and trusting
He'll show you lots of affection and shower you with kisses and cuddles
He loves to sit on your lap
He loves it when you play games with him
He knows how to stand up for himself if another dog picks on him
He can be very stubborn at times
Training
He's one of the most difficult breeds to train. You will need lots of patience as he is one of the slowest to learn obedience commands.
Shedding
He sheds virtually no hair. You'll be hard-pressed to find a hair in your home! (Good for clean-freaks.)
Grooming / Maintenance
Option 1: Clip his coat short every few months and then it only needs to be brushed occasionally.
Option 2: Trim his long coat every 6 weeks and then brush it daily to keep it mat and tangle free.
Other varieties
Photos
Submit a photo of your Shih Tzu